Muslims from Africa, the Middle East and Europe came together for the first time under the Turkish flag in Italy's Milan and Rome with the fast-breaking meal organized by the Turkish Cooperation and Coordination Agency (TİKA)
People were slowly heading to the area. It was around 9:30 p.m. as the sky was readying to blend into darkness in the elegant Italian city of Milan. No, people were not heading to a high-end fashion show or a classy painting exhibition with their $1,000 jewelry and expensive clothing.
The destination was Casa Della Cultura Islamica Milano, which simply translates into English as the Home of Islamic Culture. While the fourth day of Ramadan neared its end, Muslims from Africa, Middle East and Europe gathered in the mosque.
The azan, or call to prayer, is recited. It is time to break the fast. Following the meal, Muslims stand to pray shoulder-to-shoulder and side-by-side. One of the Muslims in the row was Shawki from Egypt. The journey began in 2005 for him.
Embarking on an adventure 13 years ago, the 34-year-old picked out Italy in a series of options to kick off a new life. Well, life is all about unexpected events, and Shawki's first years in Milano were beyond challenging. "Just like everyone in this mosque, I came here to find a better life. However, the language was an obstacle, and my documents were missing. I had difficulties," he said.
A family to support him day in and day out did not exist either. Shawki was single after all, yet the decision had already been made, and he had arrived in the country. "I was having trouble finding a job and earning money, but I had to face these challenges."
In the wake of his efforts over the course of these 13 years, life is treating him much better. When asked about the state of his living conditions, the Egyptian said: "Alhamdulillah [Thank God]."
Shawki, just like hundreds of Muslims that night, prayed under the Turkish flag. Indeed, the fast-breaking meal was organized by the Turkish Cooperation and Coordination Agency (TİKA). Far from being bothered by the presence of the Turkish flag in the mosque, Shawki was overjoyed. "Even seeing the Turkish flag is enough reason for us to be happy. Thank God you are here."
Turkey's initiative by way of TİKA projects in Italy is new. For years, the Turkish government had little presence in Italy, a country that is geographically and economically very close to Turkey. As of 2016, Turkish-Italian bilateral trade was nearly $18 billion. Furthermore, around 1,500 Italian companies operate in Turkey, while 53 Turkish companies do business in Italy.
What is more, diplomatic ties between the two countries are way better than with other European Union member states. Through the current angle of circumstances, the door may be open for TİKA to expand activities in the country.
Aside from African and Arab Muslims praying there that night, Italians who converted to Islam were present. Alberto is one of them. He believes the relatively large Muslim community in Italy, and above all in Milano, could be an opportunity for Turkey, yet in a careful way. "It is definitely a chance for Turkey to grow influence among Muslims, which is already high, but it should not be exploited," he argued.
As Turkey's first-ever fast breaking meal was wrapped up, Muslims were all smiles. In a rich and glamorous city like Milano, the Muslim community seemed to have felt embraced in a very long time. That being said, the Milano event was not the end of the road for the Turkish agency.
The next chapter was in one of the best historically preserved cities across the globe: Rome. One does not easily run into a mosque in the Italian capital. Yet, Muslims do have a mosque. The Mosque of Rome is located quite far away from the city center though.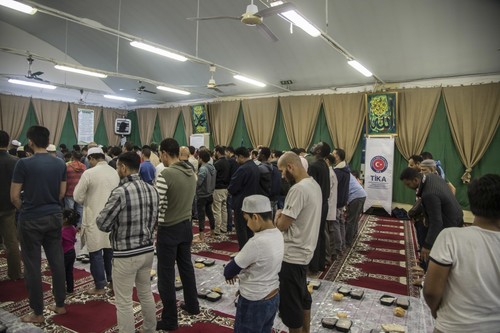 It marked the second fast-breaking meal in Italy in a week by TİKA. Completing the evening prayer, Muslims, mostly Africans and Arabs again, flocked to the building inside the complex of the Mosque of Rome.


Following the fast-breaking meal in Milan, Muslims stand to pray side-by-side.
It took the Muslims only around 10 to 15 minutes to finish off the meal, yet the impact of the Turkish event would continue to live with them for some time. As one after another headed to the exit to bring the evening to a close, an Arab had everyone turn his or her heads. He was shouting out loud. He was angry. It was as if he brought up his frustration.
"Down with the Saudis," he shouted. "Turkey is 'numero uno'." His words landed like a bombshell. Well, it was bare dissatisfaction. It was simultaneously both to the astonishment and liking of the Turks present at the event.
TİKA's East and Southeast Asia, Pacific and Latin America Department head Rahman Nurdun, who was also present in Milano and Rome, thinks the gratitude and love they have received in Milano and Rome from Muslims simply point to Turkey's prestige. "It was immensely significant for us. It shows to which levels Turkey's activity and prestige have reached in the Islamic region," he said.
Indeed, the Muslim community feels isolated and alienated in Italy, above all across Europe, due to the rising Islamophobia and xenophobia. At a time when their angst grows day-by-day, Arab countries seem to let them down. Turkey's initiatives, in this respect, may pay dividends if they are carried out on a consistent basis.
TİKA's Nurdun seems aware of it. "It was necessary to come here and do something in the recent period when Islam is introduced in a wrong and bad way and Islamophobia gradually grows in Europe."
As Turkey's first Ramadan quest in Italy comes to an end, the first experience is far from a letdown and failure. On the contrary, the Turkish agency has more than enough reasons to be content with the outcome.
With a Muslim community willing to welcome the Turks as a soft power in the country, Turkey will probably look to invest more time and money for projects in Italy for the next years to come.